 
Xiaomi Mi Smart Scale 2
Xiaomi Smart Digital Scale
Xiaomi Mi Smart Scale 2
Smart Digital Scale
Xiaomi Mi Scale is a digital scale that can connect to the Mi Fit application with which you will be able to monitor your weight, set a goal, and follow the progress of your diet or training program, always keeping the trend clearly visible and body mass index.
High-precision sensors accurately detect how the body changes every day, uses a high-precision manganese sensor that can accurately detect minute changes up to 50 grams. Each meal you consume or glass of water you drink can be easily quantified and displayed in kilograms or pounds, helping you to efficiently manage your body information.
The application, of course, will allow you to view the history of all the recorded data and is completed with all the additional features working in conjunction with the Mi Band.
Technical specifications:
● Housing material: tempered glass
● Working temperature: 0 - 40 ° C
● Device requirements: Android 4.4 / iOS 9.0 and above
● Weighing range: 100 g - 150 kg
● Wireless connection: Bluetooth 5.0
● Power: 3 x AAA (not included)
● High-precision sensor detects physical changes every day
● Smart analysis automatically identifies each family member
● Can automatically identify family members based on body data, and can support up to 16 members to share, so the whole family can share them
● It is also possible to set the guest mode so that other people can measure the data without leaving a trace
● Hidden LED screen, the display is clear and offers an integrated graphic appearance
● Rounded corners, precision CNC machining, smooth and delicate, bump damage reduction
● Uses Bluetooth 5.0 low power, weight data transmission speed is faster and more stable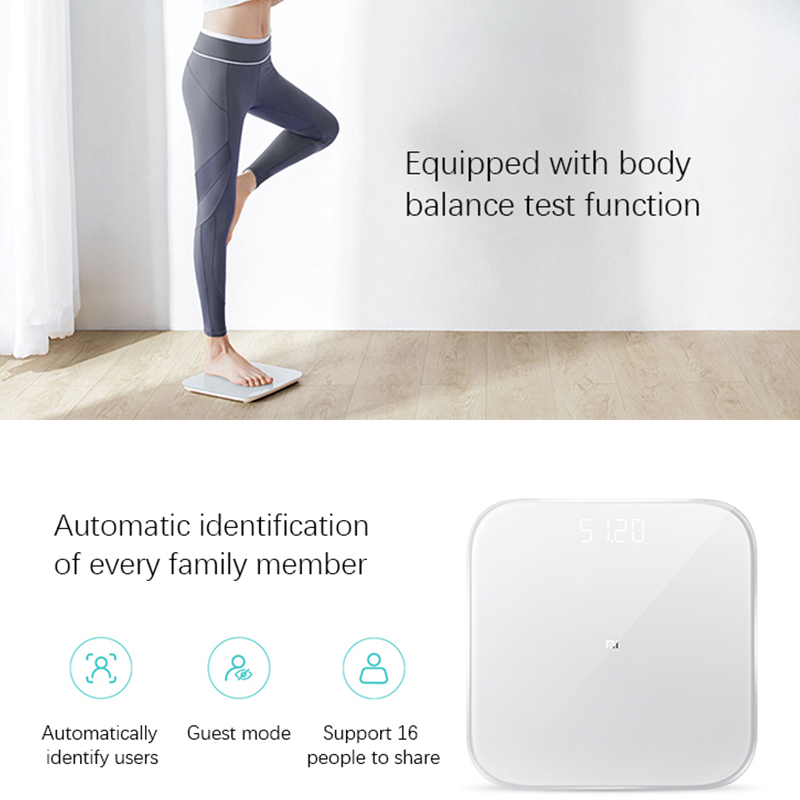 All product reviews comply with DIRECTIVE (EU) 2019/2161
2 andere Artikel in der gleichen Kategorie:
Artikel-Nr.: NUN4048GL
Marke: Xiaomi
Impedanz Digital Person Wiegeskala
Artikel-Nr.: NUN4087GL
Marke: Xiaomi
Intelligente elektrische Zahnbürste