 
Tuya Smart WiFi Air Purifier
Portable air purifier with HEPA filter
Tuya Smart WiFi Air Purifier with HEPA Filter
Breathe deeply, cleaner air in the house. A smart air purifier can improve the air quality in your home
indoor environments by reducing pollutants, the presence of which many people are unaware of.
Removes up to 99.97% of air pollutants and allergens , captures particles as small as 0.3 microns
Equipped with a particulate filter , the purifiers have the ability to purify even a large room.
Inside a home, an office or any other environment in which normal daily activities take place
fundamental importance to ensure the highest possible level of livability and air healthiness.
In fact, air quality is essential from the point of view of health (especially in this period), and this is true,
obviously, for both adults and children. This is why a device like this is so useful
the air purifier , able to chase away the polluting particles and unpleasant odors present in the environment.
New and powerful smart air purifier
With HEPA H13 filter (that is, according to European legislation, it corresponds to the degree of "very high efficiency"); to silver ions
with activated carbon. AHU (air handling unit) silent, anti-bacterial, anti-allergenic, anti-odour, anti-smoke,
no virus vector, manageable by app or voice command.
Our best 4-layer air purifier, economically priced yet professional in performance.
Mobile application
After pairing the Purifier with the Tuya Smart or Smart Life application, you can turn it on, off and set the timer.
You can control On and Off, the automatic, rest and favorite modes, you can adjust the three speeds of the fan, block it for
children and set the timer. PM 2.5 values, air quality and filter days are also displayed in the application.
Smart voice control
Thanks to the Amazon Alexa and Google Assistant services, the cleaner can also be controlled by voice.
You can control by voice on and off, mode setting, fan setting, child lock.
Create Infinite Scene Smart
If you own another device of the Tuya Smart smart home, you can set up so-called scenes with the vacuum cleaner,
for example off The alarm system, indicating the arrival of a family member,
automatically turns the vacuum cleaner on or off.
Touch screen
Contains many functions such as sleep mode, timer, speed control, auto mode,
child lock and network mode, filter status check. A remote control is also included.
Sleep mode
This mode turns off the touch screen for undisturbed sleep. The purifier also has a speaker
to play soothing music or lullabies for the little ones. The music will automatically turn off after 15 minutes.
Purify your home
With this innovative purifier with HEPA filter , with an excellent quality / price ratio, it will be possible
purify the environment from toxins, pollen, virus carriers, lead dust, fluff, mold, bacteria,
gaseous pollutants, formaldehyde, dandruff, e.coli, bad smells, animal hair, pollutants,
cigarette smoke and any other pollutants in the room.
Born from the experience gained over the years, designed by medical and industrial needs, this in just a few centimetres
environmental purifier , contains all the aesthetic, functional and healthy needs for you and your family.
Air quality indicator
The purifier has a three-color LED light to remind you of the air quality at any time.
The colors are: Green – good, Yellow – medium, Red – bad.
All without ozone and without polluting
The 4-in-1 filter system with activated carbon and silver ions, integrated in this air handling unit,
allows constant and every day use. Without production of ozone or other dangerous substances.
In spite of other non-professional models, which do not use this innovative system,
it is not necessary to have to leave the room for hours before it is possible to return to live it.
All falling within the HEPA H13 category, that of very high performance and efficiency purifiers.
Environments of Use
The air purifier can be used in the office, at home, in the living room, bedroom, etc.
Removes odors, dust, pollen, pet hair. Enjoy high quality natural fresh air.
Functions and Features:
4-stage filtration system removes up to 99.97% of air pollutants and allergens , capturing particles as small as 0.3 microns
210 CADR allows pure airflow, with ideal coverage for most bedrooms and other medium-sized rooms up to 36 square meters.
360 Degree Air Intake System : Effectively captures air from all over the room to purify and release fresh clean air with 2 soothing sounds [wave and lullaby].
Timer setting : A timer for 1-8 hours and a filter life indicator for your convenience
3 fan speed settings to customize your comfort
Tuya Smart or Smart Life Smart APP Control + Remote Control + Touch Control Panel.
100% ozone free - never use anion or UV-C light purification methods which may cause harm to the user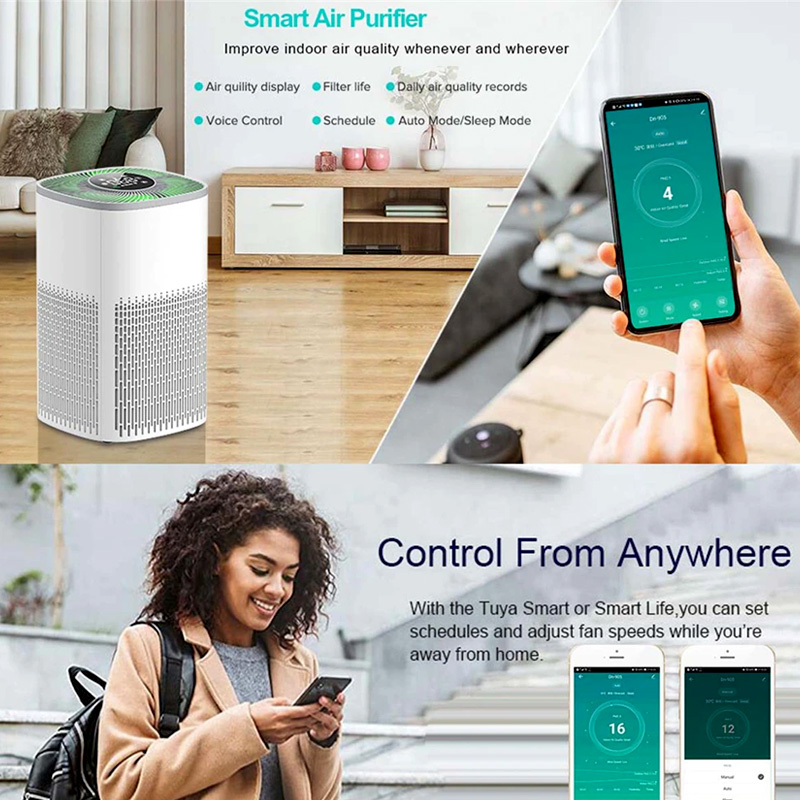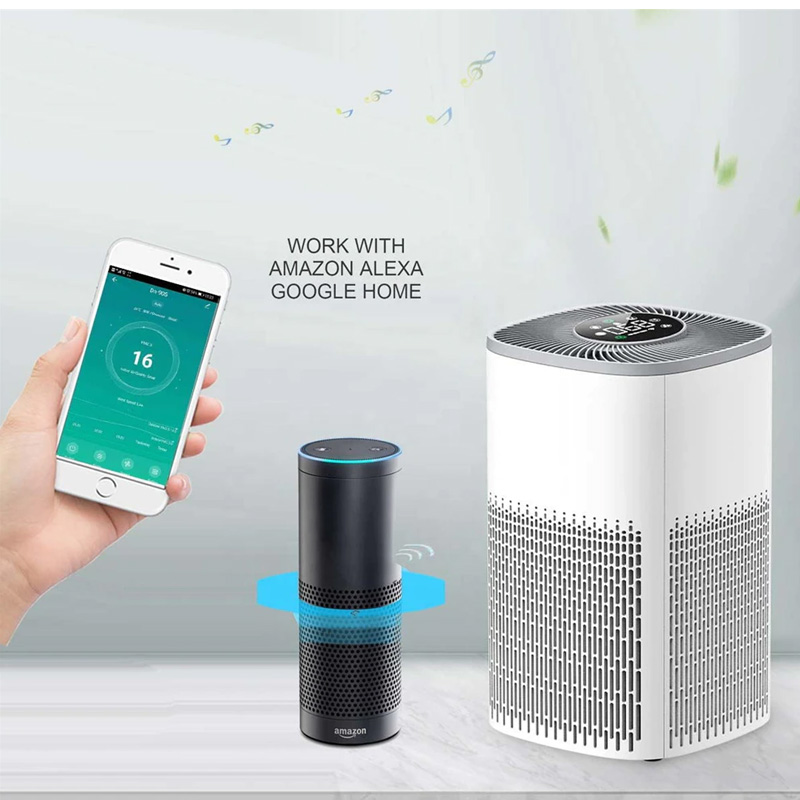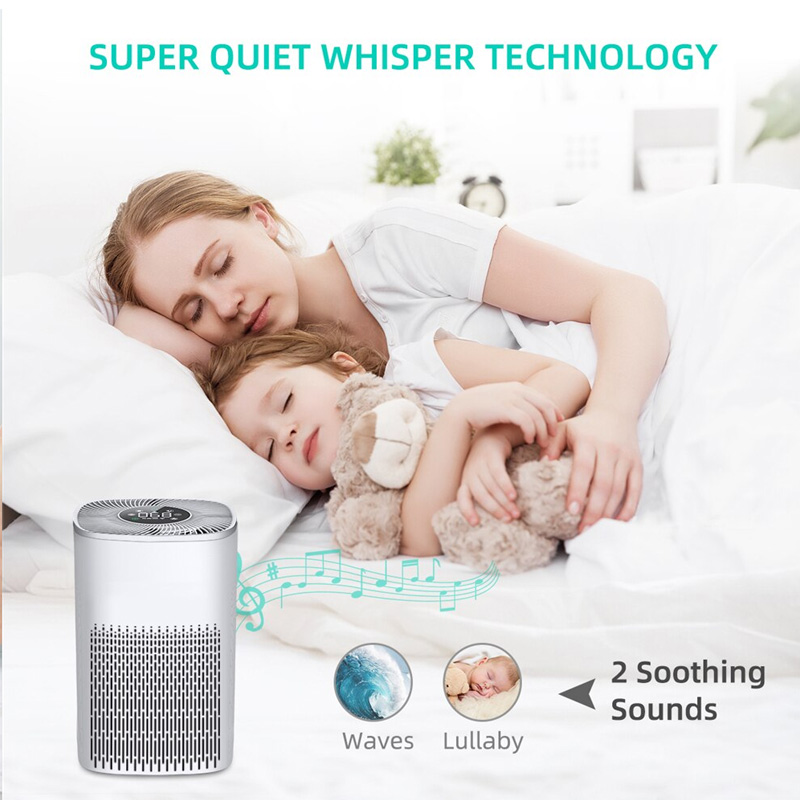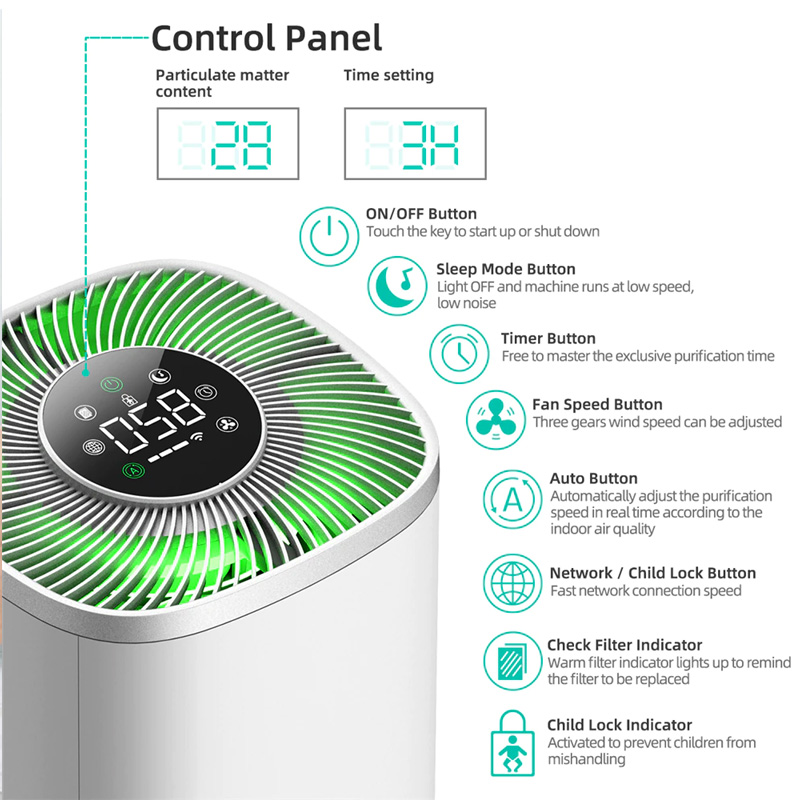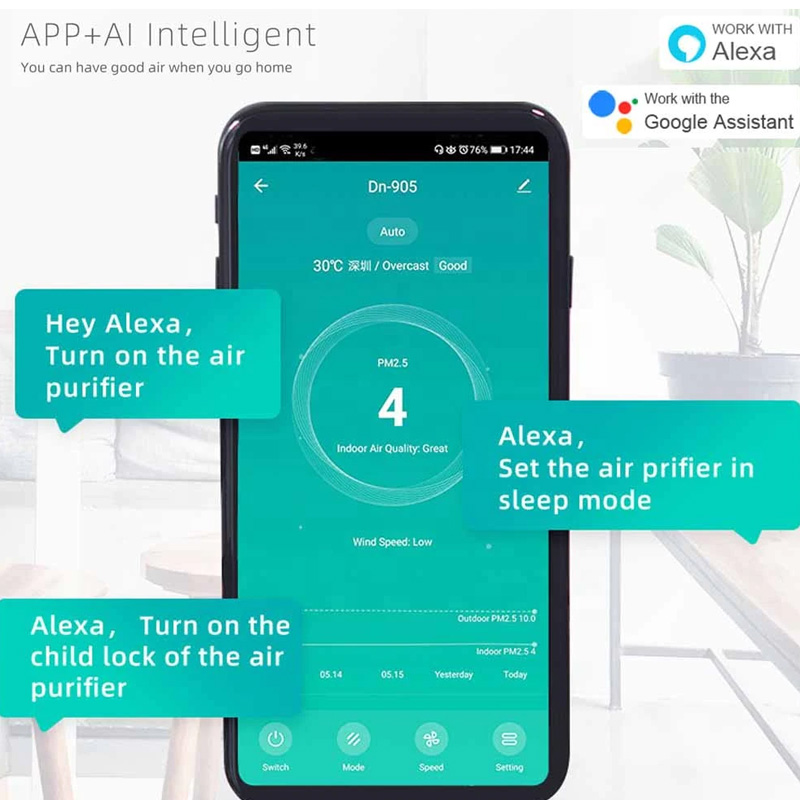 Data sheet
Alimentazione

95~240VAC, 50~60HZ

Template

Tuya Smart WiFi Air Purifier

Material

ABS+PC

Voice Control

Amazon Alexa, Google Home and Siri

Power

22W

Mobile application

Tuya Smart or Smart Life

Communication Protocol

Wifi IEEE 802.11 b/n/g 2.4GHz

CADR value

210 (m⊃ 3;/h)

Noise

Approx. 30 ~ 65db

Capacity (CFM)

125

Recommended Room Size

388 metri quadrati
All product reviews comply with DIRECTIVE (EU) 2019/2161