 
Sonoff B02/B05 BL-A60 Smart Wi-Fi LED Bulbs
Want to adjust the color and brightness of the light in scene mode? Try this Wi-Fi smart LED bulb
SONOFF B02-BL/B05-BL, supports APP control, voice control and scene mode
providing comfortable lighting with energy saving.
New smart light bulbs from the Sonoff line available in the A60, B02- BL Warm and Cold White model
 or B05- BL RGBCW to decorate your space as you like.
Updated version
Compared with the previous version SONOFF B02-B-A60 and B05-B-A60 , this new LED bulb
It has a special function that allows you to easily adjust the brightness and temperature of the
color in the program and scene to keep you in a comfortable environment.
Enjoy smart lighting
Easily adjust the brightness and color temperature to keep you in a comfortable environment.
The SONOFF WiFi smart LED bulb with a range of color temperatures
from 2700K to 6500K and a brightness of 806 equivalent to 9W.
Smart control
Expand the possibilities of colorful life, you can control the light in eWeLink APP .
The various colors create an ideal atmosphere in the room. Customize brightness, temperature
color, preset scenes instead of just on/off in the smart scene.
The Light listens to you
Compatible with Google Assistant and Amazon Alexa voice assistants, you can control the bulbs via voice.
Lift your mood in scenes
Immerse yourself in different lighting environments with the scene you like.
Manage all lights via group control. Light up your home and decorate your life.
Enjoy the music
Your smartphone's microphone will recognize the music. You can add up to 10 bulbs to change
the colors with the rhythm of the music, integrating music into the lighting, to make you feel like you are in an immersive home.
Make a plan for daily life
Set the color temperature and brightness of the light in Schedule and Scene, which means you can schedule
the light to Red and reach 80% brightness and turn it on to run Blue and stay at 60% brightness.
Control the bulb via the

Sonoff R5
eWeLink remote control is now only available in B05-BL , please update to the latest firmware.
Reliability and energy saving
Sonoff Wi-Fi Smart LED Light Bulbs are Energy Star and Energy-Related Products certified. Compared to traditional light bulbs,
Its rated life can reach 15000 hours and only 9.9 kWh per year, helping you save electricity costs .
It has an E27 connection and fits into any standard socket.
DIY mode
DIY mode is available for SONOFF smart LED bulb . You can submit a post for
Turn the bulb on or off and adjust its color temperature or color via HTTP API .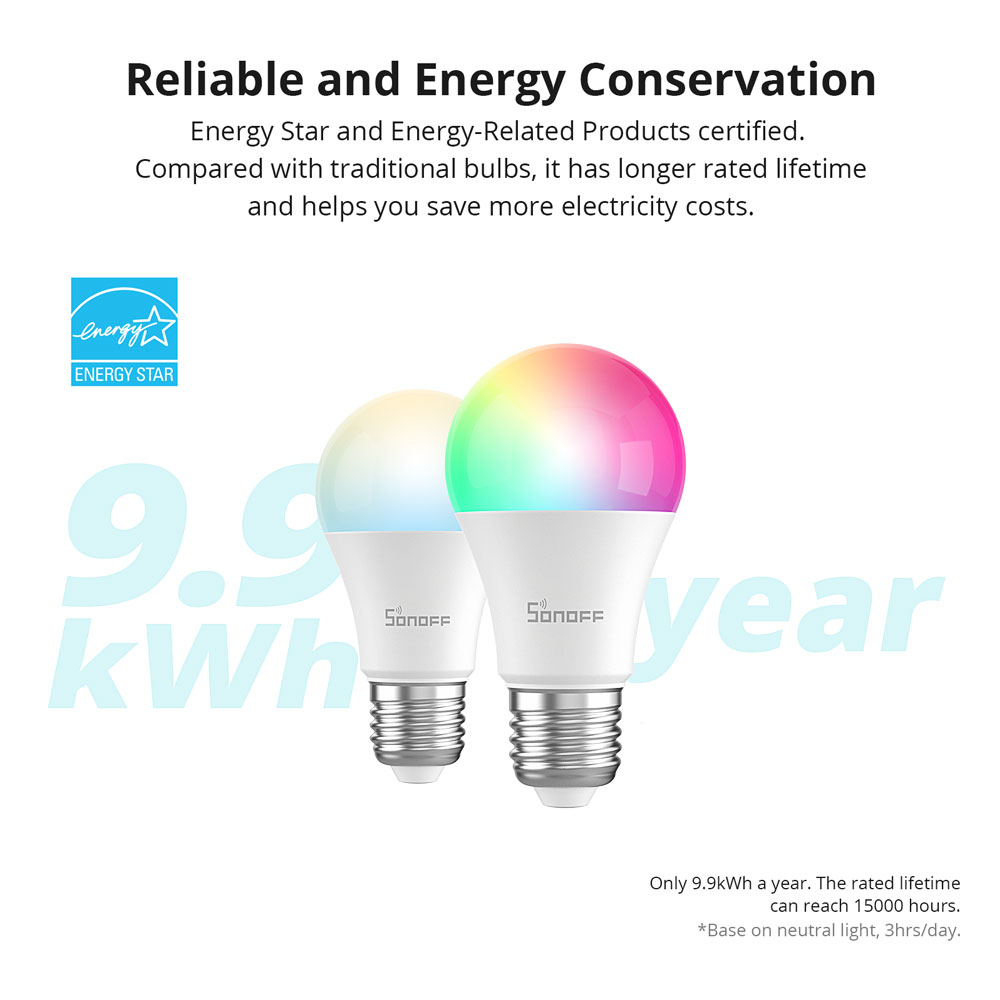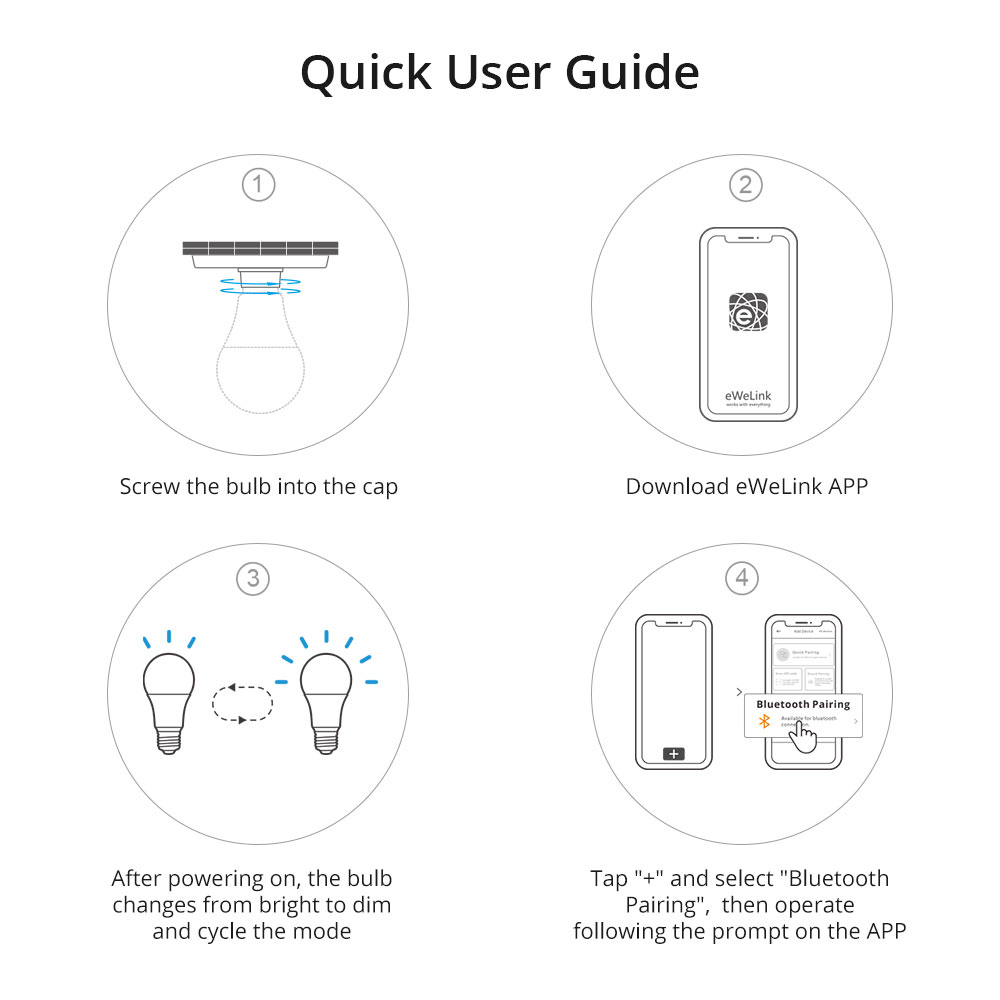 Data sheet
Alimentazione

230V, 50~60HZ

Working temperature

–10~40°C

Working humidity

5% - 95% non-condensing

Voice Control

Amazon Alexa, Google Home and Siri

Power

9W

Mobile application

eWeLink

Dimensions

62x62x115 mm

Communication Protocol

Wifi

Communication Protocol

Bluetooth

Attack

E27

luminous flux

806Lm

Color rendering index

≥80

Bluetooth protocol

4.2
Specific References
ean13

6920075776676

upc

692007577667

mpn

B05-BL-A60
All product reviews comply with DIRECTIVE (EU) 2019/2161
Bella problemi con l'accoppiamento

Bella luce potenza luminosa leggermente inferiore a una lampadina normale, ma non perde di potenza al cambio colore, problemi se L'accendi è la spegni da un'interuttore normale, ogni tanto tende andare in modalità accoppiamento
Bella ma un complicata

Bella luce, anche leggermente inferiore a una normale della stessa potenza, ma la gestione dell'app è un po' complicata per la parte dei colori, mentre ottima per quanto riguarda la tonalità di bianco
Lampada ok

Perfetta
Reference: sonoff-SwitchMan R5
Brand: Sonoff Tech
Scene controller for devices with Gateway eWeLink-Remote
Price
€10.49
Regular price
€13.49
 In stock
8 andere producten in dezelfde categorie: