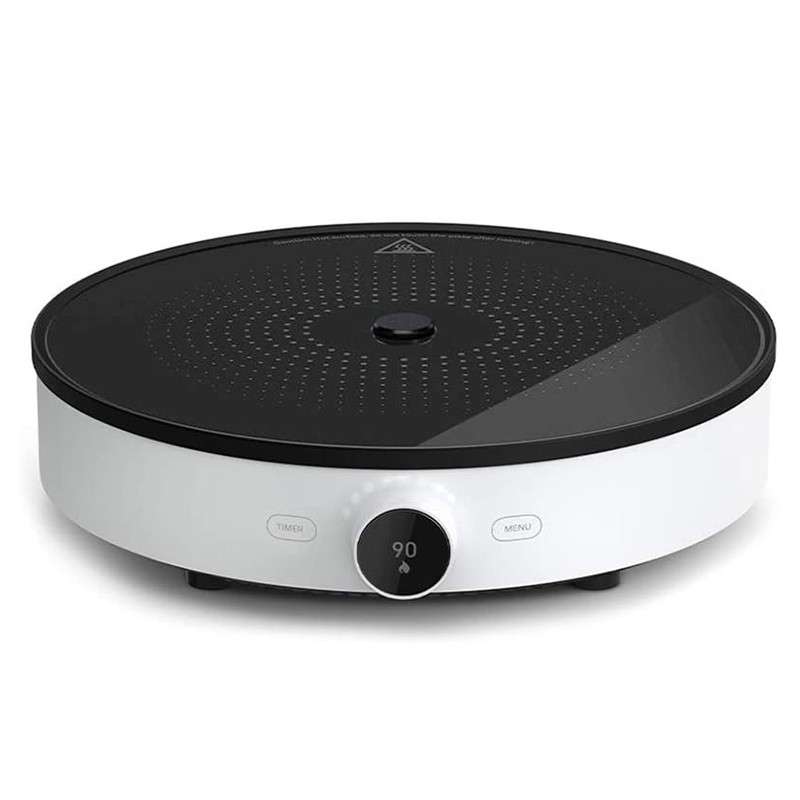  
Xiaomi Mi Induction Cooker
Xiaomi Mi Induction Cooker
Induction cooker
Convenient and compact, the Mi Induction Cooker will become an essential appliance thanks to its high efficiency, easy operation and compact size.
The stove requires minimal space to place, so it will be an ideal option for a summer residence and any small kitchen.
You can cook on the stove using any pot to which the magnet is magnetized
Advantages of induction technology Mi Induction Cooker works with electromagnetic field generation technology. One of the main advantages of this technology is the saving of energy and the reduction of cooking time.
The stove only lights up when the pots are placed on it, while the energy is not used to heat the stove, but to heat the pots and products inside.
Therefore, it is correct to use induction cookware that provides a large contact surface.
Five operating modes Mi Induction Cooker is a unique induction device that supports five intensity modes.
A normal induction cooker regulates the temperature by switching it on and off, always operating at the same power.
Our cooker can reduce the generation frequency of the field to ensure more accurate maintenance of the low temperature, which is essentially necessary for certain foods.
High level of security
To ensure stable positioning of the dishes on the stove, a special silicone rim is installed around the perimeter of the countertop to prevent the dishes from tilting or sliding off.
To ensure that the plate remains stable on the work surface, it is equipped with special legs that provide a secure grip on the table surface.
Features:
Induction heating
External temperature sensor
Precise temperature control 99 heat settings
Low temperature cooking More than 100 cooking modes
Remote control via app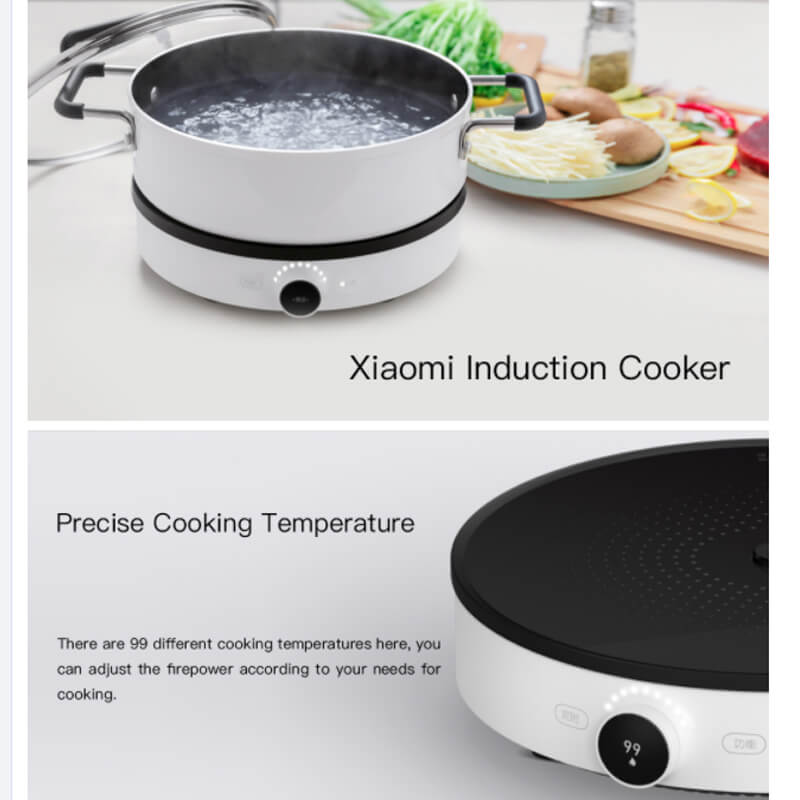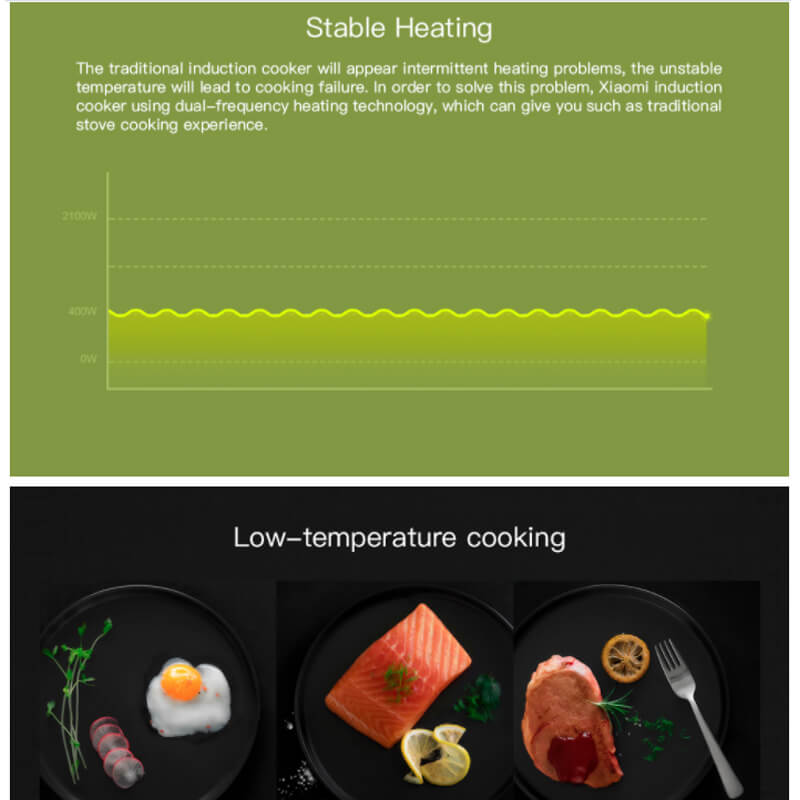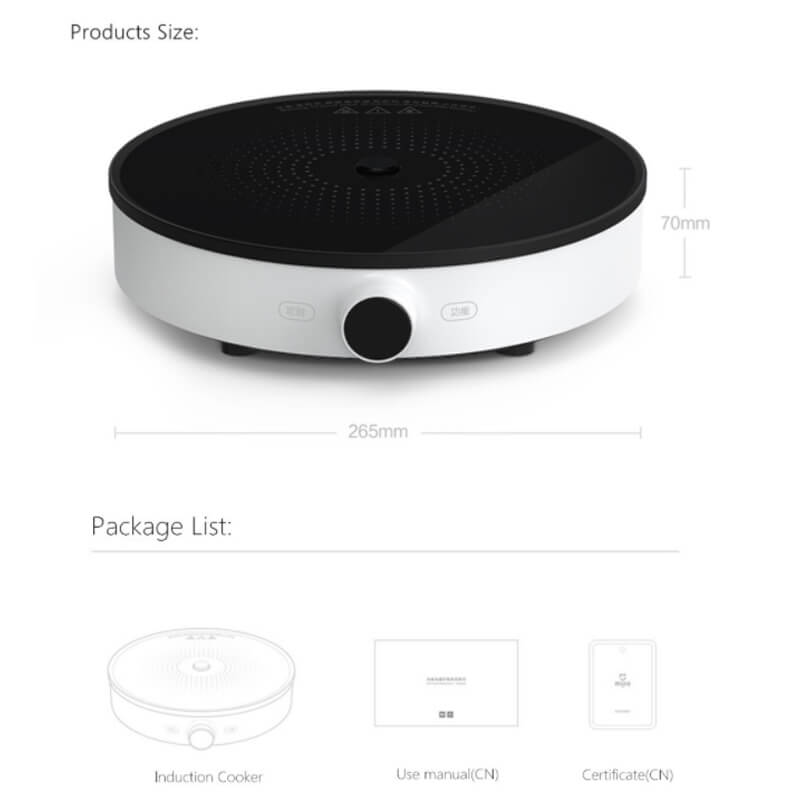 Data sheet
Mobile application

Xiaomi Home

Communication Protocol

Wifi
All product reviews comply with DIRECTIVE (EU) 2019/2161
2 other products in the same category:
Reference: dun-BHR4198GL
Brand: Xiaomi
Smart Electric Kettle with Temperature Display
Reference: dun-BHR5927EU
Brand: Xiaomi
1.7 Liter Smart Electric Kettle