 
Beca BHT-8000GCLZB ZigBee thermostat
Smart ZigBee Thermostat for Boiler Control
Beca BHT-8000GCLZB ZigBee Thermostat for Gas Boiler Control
Make your heating system smart with the Beca BHT-8000GCLZB thermostat.
Specially designed for boiler systems , you will be able to control the system according to
to the temperature or to the weekly programming.
Support forward sync with local weather .
The intuitive 4.8-inch color LCD display offers a clear and simple view of all available information.
A solution with an elegant, modern and discreet design. The thickness from the wall is only 1.4 cm.
You can use manual control or connect to the HUB and manage the times and temperature of the
your home thanks to your Android and iOS smartphone via the My Tuya Smart and Smartlife application ,
directly from the smartphone or through the comfortable touch keys.
Certified for Amazon Alexa, Google Home and IFTTT , this thermostat will allow you to keep on constantly
your system under control, maintaining the most comfortable temperature while saving energy.
Programmability 5 + 2 programmable periods maximize comfort and economy. programs guarantee a
comfortable temperature, more options, flexible; It supports device sharing .
Zigbee series thermostat is widely used in such environments as homes,
residential buildings, schools, hotels, shopping malls,
offices and so on to maintain an ideal scope of room temperature.
Installation on European standard 503 box .
Characteristics:
Temperature control via My Beca Smart or Smartlife App , for Android and for iOS.
Remote control via mobile application or computer, manage your home temperature from anywhere in the world.
Programmability: 5 + 2 programmable periods maximize comfort and economy. the programs guarantee a comfortable temperature, more options, more flexibility;
It supports device sharing.
Accurate Temperature: 1°C Accuracy keeps the temperature within the level you set;
Data memory when power is off; ℃ or ℉ can be customized;
No limits to add rooms and support Smart Scene.
NB. A ZIGBEE GATEWAY HUB is required for operation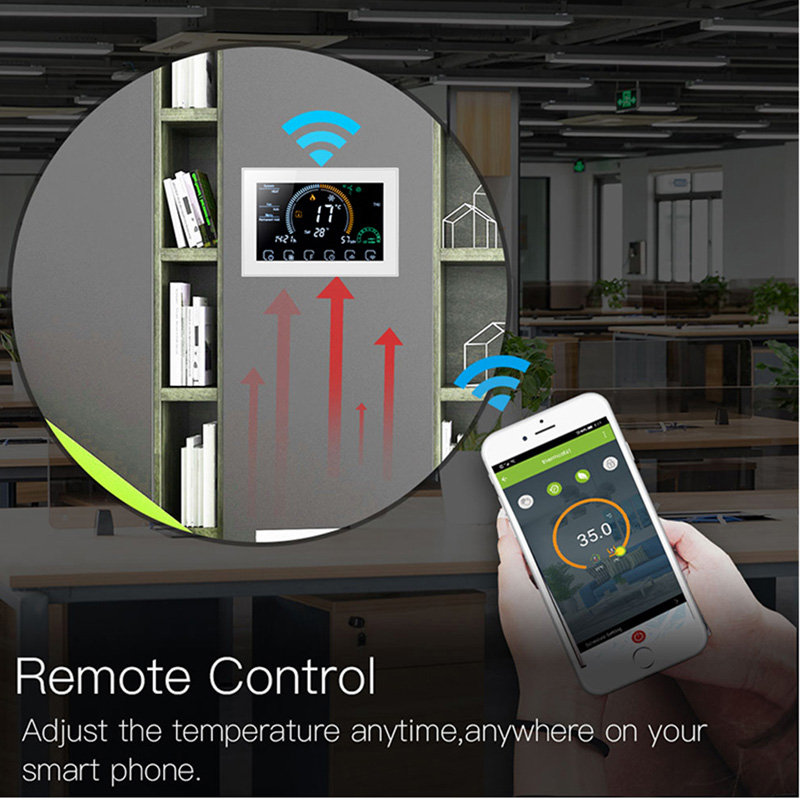 Data sheet
Alimentazione

95~240VAC, 50~60HZ

Material

PC + ABS (fire retardant)

Voice Control

Amazon Alexa, Google Home and Siri

Mobile application

Tuya Smart or Smart Life

Communication Protocol

Zigbee 3.0

Precision

±0.5°C or ±1°F

Consumption

-1.5W

Temperature Range

5-35℃

Storage temperature

-5 ~ 45℃

Wire terminals

wire 2 x 1.5 mm² or 1 x 2.5 mm²

Impremeabile

IP20

sensor

NTC3950 10K

Timing error

-1%

Assembly Box

503 120mm

Electric charge

3A for the valve 5A for the fan

Plant typology

Boiler with radiators
Specific References
ean13

9501787486824

upc

950178748682

mpn

beca-bht-8000gclzb Bianco
All product reviews comply with DIRECTIVE (EU) 2019/2161
3 altri prodotti della stessa categoria:
Riferimento: beca-bht-002gclz Black
Marca: Beca
Termostato ZigBee Controllo Riscaldamento Caldaia
Prezzo
40,51 €
Prezzo base
45,51 €
 In magazzino
Riferimento: BECA BRT-100ZB Bianco
Marca: Beca
Valvola Termostatica Zigbee per Controllo Temperatura Radiatori
Riferimento: beca-bht-2000gclzb Black
Marca: Beca
Termostato ZigBee Controllo Riscaldamento Caldaia