 
Tuya Smart WiFi Pet Food Dispenser
Smart WiFi automatic food dispenser with 3 liter volume
Tuya Smart WiFi automatic food dispenser for dogs and cats volume 3 litres
Latest generation WiFi smart food dispenser for dogs and cats controlled remotely via the app,
which allows you to take care of your furry friend even when you can't be with him.
Thanks to this smart and designer home accessory, you'll never have to worry about that
your dog is hungry or needs something else, moreover, this smart dispenser guarantees
a complete connection with your pet wherever you are.
You can reward him with a treat at any time, easily, online in the application on your smartphone.
The application is compatible with all Android or iOS phones. Its advantage is simple and intuitive control.
Get an overview of what's happening at your home while you're away.
Simple control via smartphone
The application is compatible with all Android or iOS phones.
Its advantage is simple and intuitive control. Get an overview of what's happening at your home while you're away.
The intelligent mobile application Tuya Smart or Smart Life allows you to monitor and control your home from anywhere
part of the world using only the internet and your mobile phone. You don't need any control unit or "gateway".
Each device has all the necessary components for communication with your mobile phone via the Internet (cloud).
Removable and washable large capacity
The detachable pet food bucket is convenient to disassemble and clean,
It is made of food grade ABS material, it is eco-friendly and durable.
Manual control
The ability to fill the tray with dry food with one click in the application.
It is possible to select the number of portions for each action (from 1 to 10 portions)
Scheduled work
With simple actions in the application, you can set a power schedule (hours and minutes) and
set the number of portions for each unloading.
The feeder holds up to 3 liters of dry food with the number of portions for each shipment.
Suitable for various dry foods with possible diameter of the pieces is up to 10 mm in diameter.
Functions and Features:
Fun and Reward : Play together with your pet. Encourage your dog to come to the dispenser and reward him with a good portion of pellets or just a piece. Use the application to release a portion of granules with a single button. From anywhere!
Dosage of granules : You can easily set up a feeding plan in the application. For instance. 9:00 drop 5 pieces of granules, at 11:00 drop 3 pieces of granules, etc.
Check your pet's diet! You will benefit from his condition . The feed dispenser is an equipment that is increasingly appreciated by farmers, not only for its ease of use and time saving, but also for the possibility of completely controlling the animal's eating habits. If your four-legged friend has a recommended diet, with the dispenser you can easily ensure that he receives exactly the amount of feed that his state of health requires. You can set a time for each portion or unlock the dispenser at the moment and your mazel will receive the portion set on the bowl.
Automatic scale : the dispenser has a built-in scale, thanks to which you will be informed about the state of the granules in the container.
Patented feed passage: The internal mechanism prevents the food from getting wet and sticking. The rotating silicone motor ensures an optimal feed passage and therefore the food does not stick or get stuck in the device.
WiFi Connection: A wireless connection that lets you connect anywhere.
Remote Control : Easy control via Tuya Smart App or Smart Life-Smart Living. The application is compatible for both Android and iOS and its operation is very intuitive.
The simple handling and easy maintenance of the dispenser is everything you want for your home. The design elaboration of the WiFi Smart distributor brings you a clean classic. The simple black and white design ensures that nothing will disturb the look of your interior. Simplicity is also a sign of clear handling and control, which every user will appreciate, especially on busy days. The removable granule box and bowl allow for faster handling and easy cleaning.
What breed is it suitable for?
Determining suitability for a particular dog is always very difficult, as every dog is different.
It mostly depends on the temperament and sensitivity of the dog in question.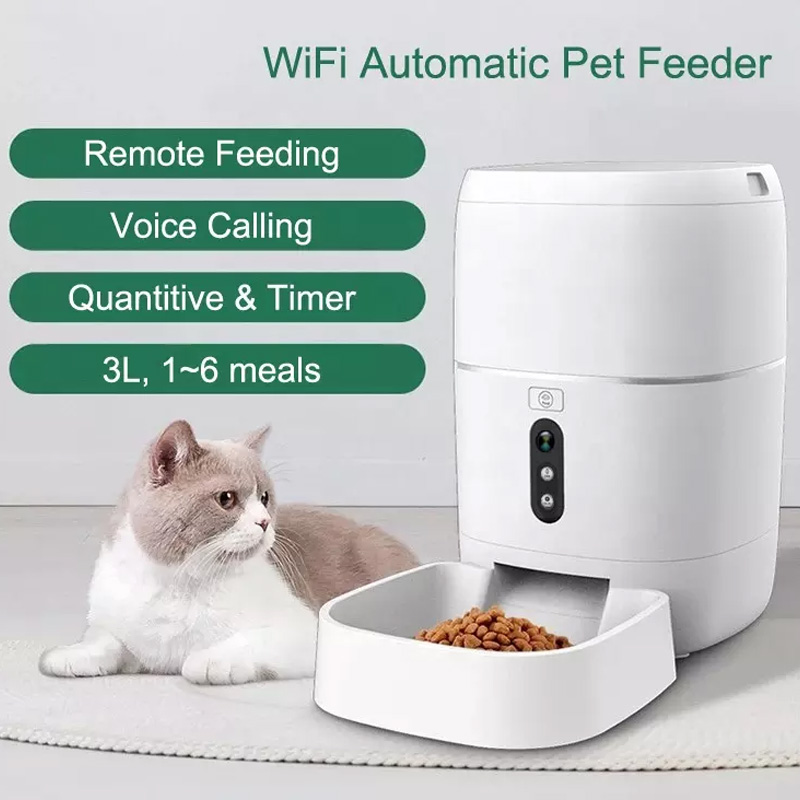 Data sheet
Alimentazione

DC 5V 1A

Template

TuyaSmart WiFi Automatic Pet Feeder

Working temperature

–10~40°C

Working humidity

5% - 95% non-condensing

Voice Control

Amazon Alexa, Google Home and Siri

Mobile application

Tuya Smart or Smart Life

Suitable for

Animals

Dimensions

24X24X37cm

Communication Protocol

Wifi

Capacity

3 litres
All product reviews comply with DIRECTIVE (EU) 2019/2161
2 andere Artikel in der gleichen Kategorie:
Artikel-Nr.: Tuya-FD-WF
Marke: Tuya
WLAN-Wasserspender mit UV-Technologie
Artikel-Nr.: tuya-FD-BL3-C
Marke: Tuya
Intelligenter WiFi-Spender für Lebensmittel mit integrierter IP-Kamera, Volumen 6 Liter
Preis
149,91 €
Verkaufspreis
159,91 €
 Nur noch wenige Teile verfügbar