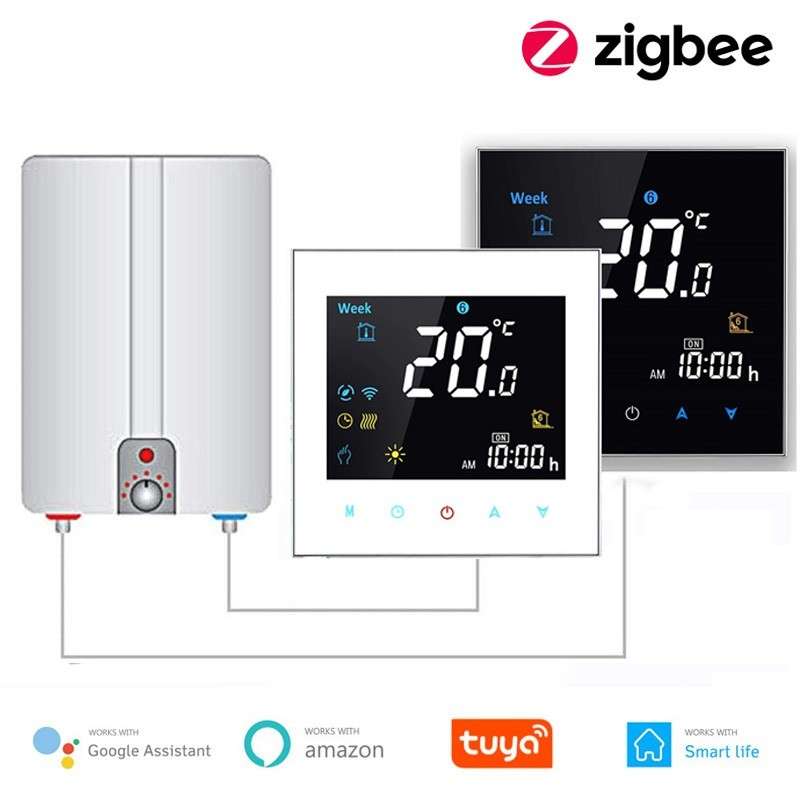  
Beca BHT-2000GCLZB ZigBee thermostat
ZigBee Thermostat Boiler Heating Control
Beca BHT-2000GCLZB ZigBee Smart Thermostat for Boiler Heating Control
The Beca BHT-2000GCLZB Zigbee Thermostat is used for heating gas boilers , water.
The BHT-002 series is designed to remotely program the temperature of your home
and manage all settings via smartphone, making your home comfortable and smart at the same time.
You can use manual control or connect to the HUB and manage the times and temperature of the
your home thanks to your Android and iOS smartphone via the My Beca Smart and Smartlife application ,
but also through voice commands given directly from the smartphone .
Compatible with Amazon Echo, Google Home, Tmall Genie, IFTTT voice assistants.
With Weekly Programming
It supports manual set up 5+1+1 weekly schedule with 4 periods for option,
providing maximum convenience for each different situation tailored to your home temperature.
The smart thermostat is then connected to your home's wireless system,
allowing you to remotely configure your heating.
Maintains a 0.5°C accuracy of the temperature within the set level.
The Zigbee thermostat can help you save on energy costs when you use a pre-set heating schedule.
The LCD screen with backlight , allows you to view the data clearly, easy to read even in the dark.
The elegant and simple appearance fits perfectly into your modern home.
Features :
Zigbeee voice control function.
High quality thermostat for gas boiler heating system, with touch buttons for easy operation.
LCD display with backlight to display the data in a clear and easy to read way.
Possible weekly programming to maximize comfort and economy, very flexible.
Accuracy of 1°C, keeping the comfortable temperature within the level you set.
Data memory function when power is off; thermostat lock function.
Acrylic faceplate to protect the LCD screen from collision and avoid finger scratch.
High efficiency and energy saving thermostat to reduce home energy costs.
Made of fireproof material, safe and reliable for your daily use.
NB. A ZIGBEE GATEWAY HUB is required for operation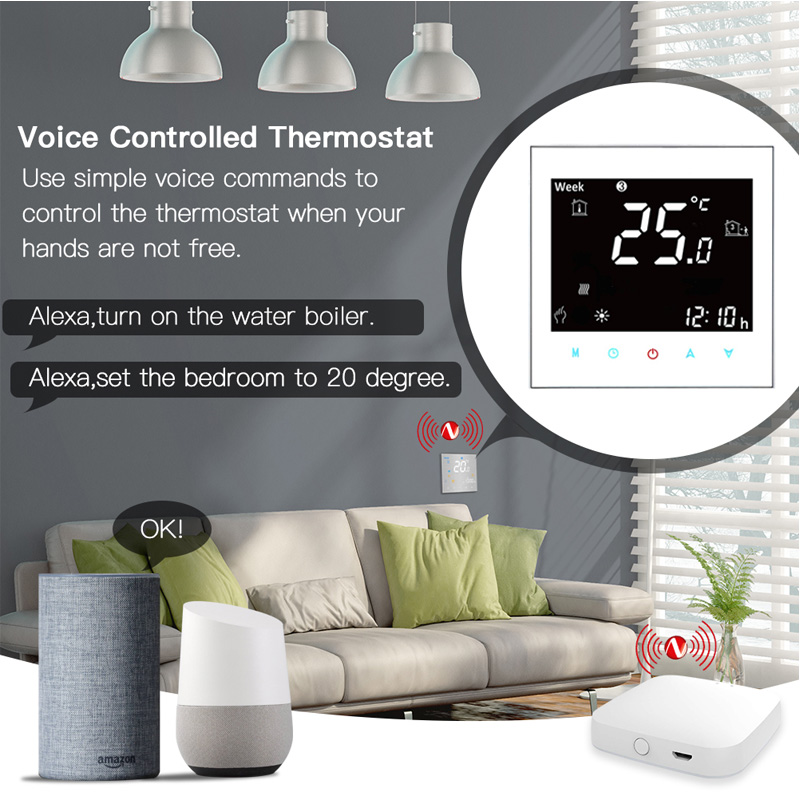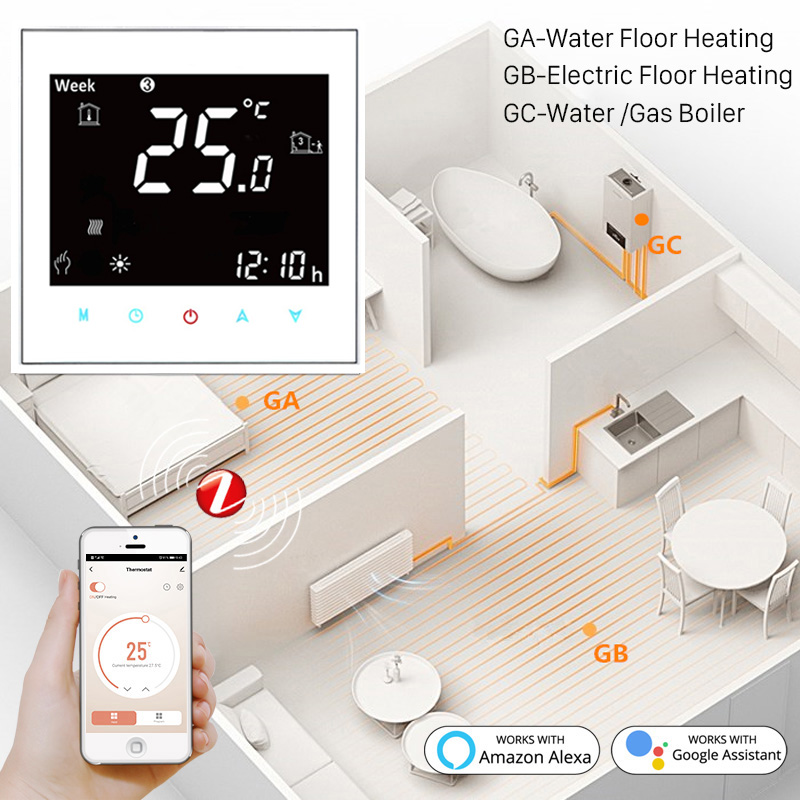 Data sheet
Alimentazione

95~240VAC, 50~60HZ

Material

PC + ABS (fire retardant)

Voice Control

Amazon Alexa, Google Home and Siri

Mobile application

Tuya Smart or Smart Life

Communication Protocol

Zigbee 3.0

Precision

±0.5°C or ±1°F

Consumption

-1.5W

Temperature Range

5-35℃

Storage temperature

-5 ~ 45℃

Wire terminals

wire 2 x 1.5 mm² or 1 x 2.5 mm²

Impremeabile

IP20

sensor

NTC3950 10K

Timing error

-1%

Assembly Box

86x86 or European Round

Electric charge

3A for the valve 5A for the fan

Plant typology

Boiler with radiators
Specific References
ean13

9501116812196

upc

950111681219

mpn

beca bht-2000gclzb Nero
All product reviews comply with DIRECTIVE (EU) 2019/2161
3 altri prodotti della stessa categoria:
Riferimento: BECA BRT-100ZB Bianco
Marca: Beca
Valvola Termostatica Zigbee per Controllo Temperatura Radiatori
Riferimento: beca-bht-002gclz Black
Marca: Beca
Termostato ZigBee Controllo Riscaldamento Caldaia
Riferimento: beca-bht-8000gclzb Black
Marca: Beca
Termostato Smart ZigBee per Controllo Caldaia